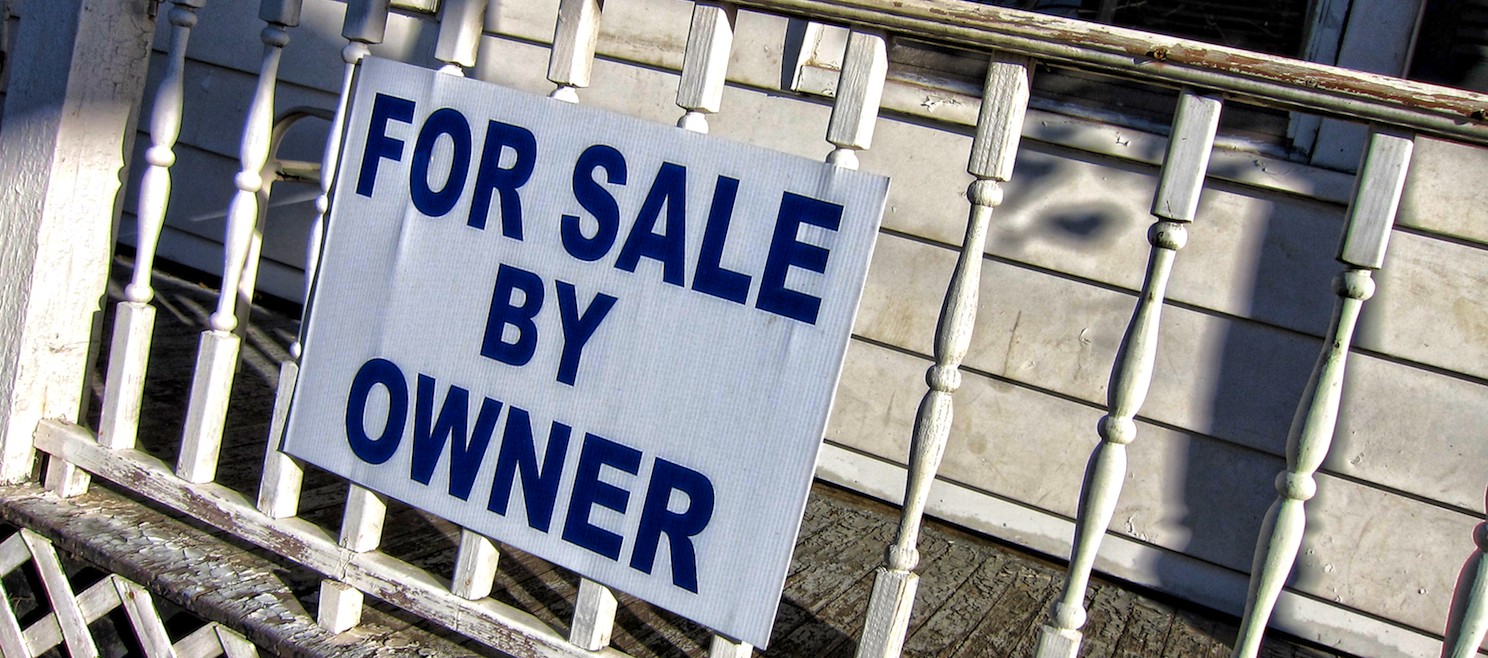 10 Reasons Why For-Sale-By-Owners (FSBOs) Fail
January 22, 2016
Homeowners trying to sell their homes on their own —aka: For-Sale-By-Owners (FSBOs) — are driven by several reasons. Although most of them want to save money on real estate commissions, a few feel they don't need a professional to sell their home.
Whatever the reason, data from a recent National Association of Realtors study shows that less than 10% of FSBOs actually succeed.
Top reasons why FSBOs fail in real estate:
1. Too many people to negotiate with
Those deciding to take the FSBO route often have to work with many people. Some of them are:
The buyer, seeking the best possible deal.
The buyer's agent, who represents the buyer's best interest.
The buyer's attorney (in some regions of the nation).
Home inspection companies, hired for the buyer, which always identify a substantial list of problems with any house.
Your bank, in case it's a short sale.
The appraiser, if the home's value needs to be assessed.
Without the help of an experienced Realtor, dealing with so many different parties is often a tough task for homeowners.
2. Homeowners do not know how to prepare the home for sale
A majority of homeowners don't know about prelisting tasks required before they list their home for sale. These include:
Cleaning/Decluttering – essential for success – less is more!
Painting the rooms with a fresh neutral color.
Completing necessary repairs.
Replace worn out carpet with tile.
Curb appeal should be the best you can afford.
Replacing outdated light fixtures.
Once the house is ready, Hire a professional photographer to make the house look its absolute best to online buyers.
Because FSBO's have one chance to impress buyers, neglecting these steps greatly reduces the chances of a sale.
3. Owners do not know how to screen potential buyers
FSBOs often have no idea about the difference between mortgage prequalification and preapproval. They don't know that buyers should be preapproved or at least prequalified before even being allowed in the door.
Letting unqualified and unknown people (aka: tire kickers) enter and inspect a house is not only a waste of a sellers time, it can be dangerous.
4. Owners fail to handle buyer's inquiries without getting defensive
Handling inquiries from buyers and coordinating showings are prerequisites for making a sale. However, many homeowners either lack the skill, or don't have the time.
Because potential buyers and their agents want quick responses, they will move on to the next property if their inquiries and requests aren't quickly answered.
5. Owners don't understand the concept of the 'Goldilocks Time' in marketing.
According to research, homeowners usually receive the best offers for the most money in the first few weeks of putting the property on the market. The longer a home stays on the market, the more buyers suspect something must be wrong with it, and the less money buyers are willing to offer.
6. Owners fail to understand contract procedures
The contract to buy a home involves much more than just the price. Real estate contracts have strict timelines, include clauses and usually involve contingencies such as inspections and mortgages. Unless the seller has a firm understanding of contract law and studies the sales contract for months, they probably will not know what they are agreeing to, or how to negotiate important parts.
7. FSBOs don't know how to handle the home inspection findings
Home inspections always find issues with a house, even when inspecting new construction! Buyers will inevitably hand the seller a long, detailed list of requests for repairs and/or a request for a price reduction. If the seller refuses to cooperate, the buyer can walk away. How should a seller respond?
Many FSBOs believe that there is nothing wrong with their home, or they may take it personally and refuse to address the issues. As a result, the buyer becomes offended and walks away. A lost sale!
8. FSBO's incorrectly price their homes
FSBOs often overprice their homes due to pride/lack of experience. This greatly hinders their chances of getting offers.
9. FSBO's lack a knowledge of marketing
These properties are often listed on only one or two websites, but there are many that don't allow FSBOs. Thus, FSBOs are unable to give their homes adequate exposure in the market.
However Realtors are online marketing experts! With our professional quality digital photos, and our ability to saturate the internet, we make your home easy to find and hard to forget. We will generate an online buzz around your property to 1) maximize exposure, 2) maximize showings, 3) maximize the number of offers you receive, and 4) maximize your profit!
10. FSBOs fail in the closing process
Even if an offer is successfully negotiated and accepted, many things still need to be done prior to the closing. For instance:
Get the inspections completed within the allotted time.
Ensure the attorney(s) approve contracts.
Has buyer ordered a survey/elevation certificate?
Has the buyer obtained a written mortgage commitment?
Is title marketable and clear?
Conduct a Lien Search – any open permits/liens?
Is seller current on taxes?
Has buyer obtained insurance?
With so many things acting to kill a FSBO's deal, it's not surprising that so few FSBO homes actually get sold by the owner.
Joseph Schutz
Ft Lauderdale, FL